Ichiro Kobayashi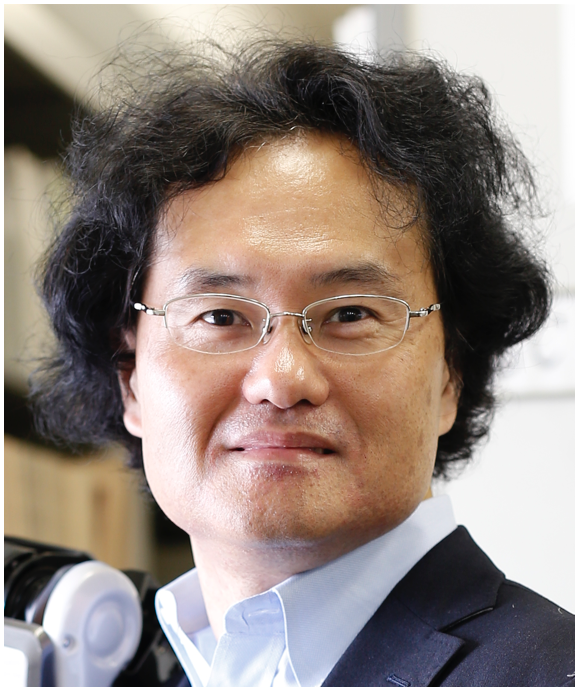 Position
Professor
Affiliation
Faculty of Core Research Natural Science Division
Faculty
Dept. of Information Sciences (B)
Computer Science Course (M)
Division of Computer Science (D)
Google Scholar
Google Scholar
researchmap
researchmap
Mail
koba@is.ocha.ac.jp
Dr. Ichiro Kobayashi is a Professor in the Department of Information Sciences at Ochanomizu University. He has been studying for more than 30 years in the areas of Information Sciences, especially Machine Learning-based Artificial Intelligence and Natural Language Processing.
Research Interests / Areas
Linguistic information processing, intelligent information processing, verbalization, decoding of brain information, latent semantic analysis, text processing, robotics.
Research Contents
I am interested in using artificial intelligence and language information processing techniques to make the target system more intelligent. In addition, I am actively developing methods to explain time-series data in words and methods to decode information in the brain. In the field of natural language processing, we are conducting latent semantic analysis of documents, and based on this information, we are conducting research on multiple document summarization, document classification, and information retrieval. We are also studying robot control using evolutionary computation and reinforcement learning.
Research History
2017 – Present
Visiting researcher
Artificial Intelligence Research Center, National Institute of Advanced Industrial Science and Technology
2011 – Present
Professor
Ochanomizu University
2003 – 2011
Assistant Professor
Ochanomizu University
2007 – 2008
Visiting Researcher
Center for the Study of Language and Information, Stanford University
2007
Visiting Researcher
German Research Center for Artificial Intelligence
2001 – 2005
Visiting Researcher
Brain Research Center, RIKEN
1996 – 2003
Associate Professor
Faculty of Economics, Hosei University
1995 – 1996
Research Associate
Faculty of Economics, Hosei University
Committee Memberships
2017
Conference Committee Chairman
The Conference on Special Interest Group for Researches 2017, Japan Society for Artificial Intelligence
2016 – 2017
Board member
Japan Society for Artificial Intelligence
2002 – 2015
Board member
Japan Association for Systemic Functional Linguistics
Invited Talks
小林一郎:「人工知能の知:機械学習を用いた脳内情報解読と脳機能解明へ向けた取り組み」.第40回脳神経外科コングレス総会の特別企画, 第40回脳神経外科コングレス総会の特別企画,2020.
小林一郎:「機械学習手法を用いた脳内情報解読と脳機能解明に向けた取り組み」.認知神経心理学研究会,2019.
小林一郎:"動向情報の言語化とその周辺−金融市場の動向を例にしてー",統計数理研究所・キヤノングローバル戦略研究所共同開催「統数研共同研究集会「経済物理学とその周辺」H28年度第一回研究会」.キャノングローバル戦略研究所,2016.
Ichiro Kobayashi: "Text Processing with Topic Models", Korean Institute of Intelligent Systems, Seoul, Korea, 2013.
大西可奈子,小林一郎:Linked Dataを用いた着目対象像を捉える情報抽出,第2回ソーシャルコンピューティングシンポジウム,青山学院大学,2011.
Ichiro Kobayashi: The Introduction of the Framework for Everyday Language Computing, The 10th International Symposium on Advanced Intelligent Systems(ISIS2009), 2009.
Ichiro Kobayashi: Everyday Language Computing Project Overview, European Center for Soft Computing (ECSC), 2009.
Ichiro Kobayashi: Everyday Language Computing Project Overview, Berkeley Initiative in Soft Computing (BISC) seminar, guest speaker, 2008.
小林一郎,岩爪道昭,近未来チャレンジ卒業記念パネル「日常言語コンピューティング」,第20回人工知能学会全国大会,東京,2006.
小林一郎:日常言語コンピューティングと選択体系機言語理論,第15回ソフトサイエンスワークショップ, 第18回東海ファジィ研究会合同研究会,2005.
Ichiro Kobayashi and Michio Sugeno: Towards Everyday Language Computing–Computing from the Viewpoint of the Linguistic Theory–, In Proc.of the workshop: Breakthrough Opportunities for Fuzzy Theory, pp. 89–94, Tokyo Institute of Technology, (invited speaker), 1996.
Books
小林一郎:「コンピュータが考える」,サイエンス社,2022.
Yusuke Takahashi, Ichiro Kobayashi and Michiaki Iwazume.:"The components and structure of the context base, a database for computer text generation", (Chapter 10), In Systemic Functional Perspective of Japanese: Descriptions and Applications, edited by Elizabeth Thomson and WillamArmour, Equinox, Mar. 2013.325‐353.
David Butt, Ichiro Kobayashi, Makoto Sasaki:"Abstract tools and technologies of learning: an evolving partnership, Joseph Zajda and Donna Gibbs (eds.)", Comparative Information Technology: Languages, Societies and the Internet (Globalisation, Comparative Education and Policy Research, ISBN-13: 978-1402094255, (Springer, New York), 2009.
小林一郎:「人工知能の基礎」,サイエンス社, ISBN 978-4-7819-1217-2, 2008.
小林一郎,龍城正明(編):「ことばは生きている – 選択体系機能言語学序説 -」,くろしお出版社,2006.
宮脇典彦,小沢和浩,小林一郎:「実践的コンピュータ入門 – インターネットとWindows -」,有斐閣,2002.
小林一郎,内海彰:第33章「言語」,ファジィとソフトコンピューティングハンドブック,日本ファジィ学会編集,共立出版株式会社,ISBN4-320-02985-2,2000.
宮脇典彦,阪井和男,小沢和浩,小林一郎:「Excelによるデータ解析の基礎」,培風館,ISBN4-563-00883-4,1997.